No Hassle Shipping & Returns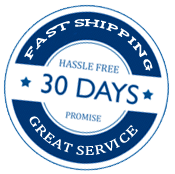 Hassle Free Promise
TCG Floral's Hassle-Free Promise means you can return your purchase for up to 30 days with no questions asked. We want you to have an enjoyable shopping experience with us and we understand easy returns make that a reality!
Bottom line- we sell fun stuff and don't want you stuck with something you don't absolutely LOVE.
How Our Easy Returns Work:
Simply log on to your account, select MY ACCOUNT > COMPLETED ORDERS and you may RETURN ITEMS from a completed order. You will receive an automated return authorization with instructions.
If no account was created, Contact Us and we will be happy to supply return instructions.
We will issue a prepaid return label for your return.
Refunds will be issued via the original payment method typically within 24 hours of receipt of the product, or a replacement items will be shipped, your choice.
Our Shipping Promise
We know which shipping companies are best at getting your order to you quickly and safely and do it at a fair cost. We have partnered with the best, including UPS, FEDEX and US Postal Service. So, on every order we select which shipping carrier is best suited to meet your needs.
We ship every day from Lexington, KY. We have a 99.8% on-time fill rate.
Orders placed before 3:30 pm EST will ship the same day.
PLEASE CONTACT US IF YOU HAVE A SPECIAL REQUIREMENT or urgent need- We're here to help!
When will I get my stuff?
Packages between 1-3 lbs. usually ship via USPS Mail (2-3 days)
Packages of 5 lbs or more usually ship FedEx Ground or UPS ground(1-4 days)
Our Ground Shipping Time Chart:

How much does it cost to ship my order?
Shipping will be automatically calculated for you at checkout. We also have options for Flat-Rate Shipping and FREE SHIPPING.
Privacy
TCG Floral is committed to protecting the privacy of our customers. We do not sell, rent, or loan any personally identifiable information regarding out customers. If our written privacy policy does not answer all your questions, please feel free to Contact Us with any additional questions.
Personal information:
When using our website, the following information may be collected or we may ask you to provide the information.
Your Contact Information- Name, Addresses, Phone Number, E-mail Address, City, State, Zip.
Navigation Information may be collected to view traffic patterns on our site.
Credit Card Information, consistent with placing an order.
We will use collected information to complete transactions, contact you about a purchase order that was placed, verify mailing addresses, inform you of a change to your account, or inform you of a change on your order. In addition your information will be stored in our customer database. This information is used to track your order, respond to your inquiries and make subsequent purchases easier and faster.
In general, you may visit many of our web pages without telling us who you are or revealing any personal information.
Promotional Emails
We may periodically send emails regarding promotions related to your previous purchases from us. To be excluded from these mailing lists please Contact Us