About Us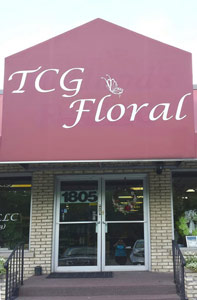 Welcome to TCG Floral, "where variety blooms" in every corner! We are a professional floral supply company as well as a full service wedding and event florist in Lexington, KY. We carry a full line of professional floral supplies and materials for the DIY enthusiast. We are located at:
TCG Floral LLC
1805 Old Paris Road
Lexington, Ky 40505
Phone: (859) 231-7673 (ROSE)
We are available Monday thru Friday 9 to 5 and weekends and evenings by appointment.
About the Owner
Mellow Ellis has worked in the customer service industry for 31 years. She has also owned her own floral business for the past 23 years. Her desire is to support our clients in finding enjoyment and satisfaction by creating floral designs through education, quality products and personal customer service.
"HELP! That's probably the most common phrase we hear at TCG Floral from our local customers and our worldwide customer base. The great new is we are here to help! I have worked in the customer service industry for seriously too long, and I have owned my own floral business for 23 years. All those years have taught me two things: Love what you do every day and help others learn and love it too. All of our products are researched and used in our retail floral shop so you can buy with confidence knowing we know our products and can help you use them."
We stock a wide variety of floral design products. We update our website and add new products frequently so please be sure and visit again and again. If there is a product you are looking for and don't see in our store we will be happy to try and locate it for you
We hope you find our website informative, if you have any questions please feel free to contact us. We look forward to helping you make flowers and floral design part of your daily routine!